Alexis offers weekly online and in person (New York City) private instruction to a limited number of students per month.
There are still available slots for the 2021.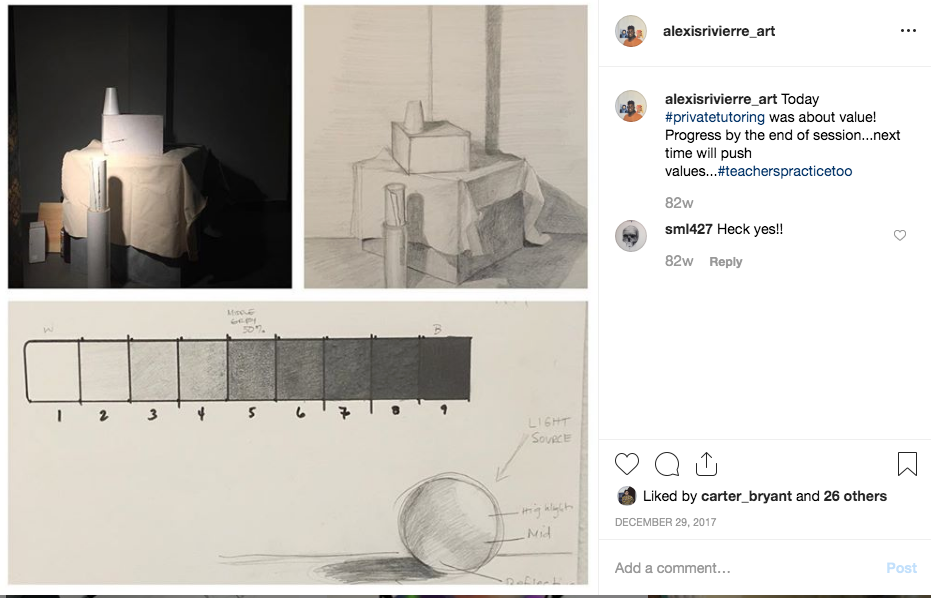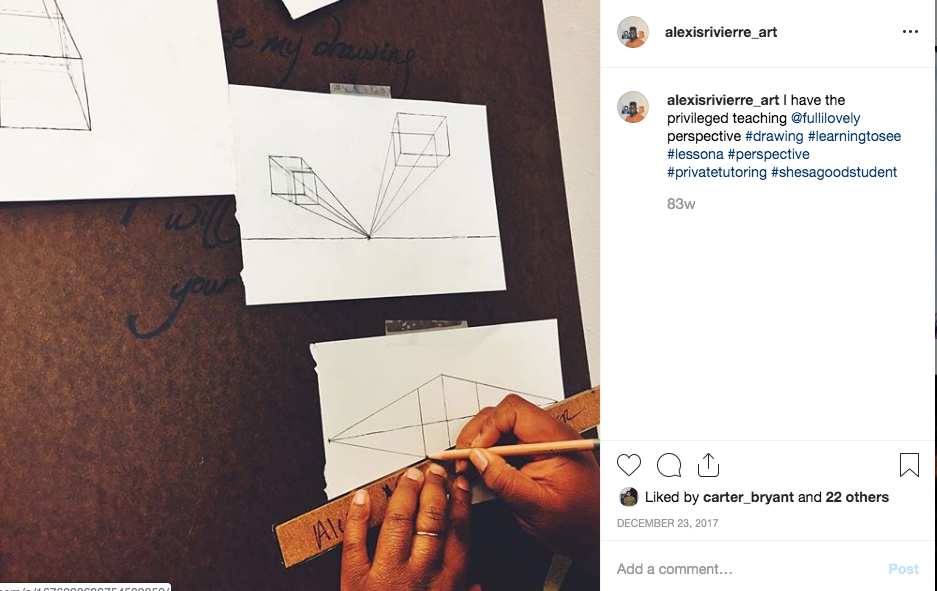 The fee is $75 per hour for online (via Zoom) or in-person instruction*- a minimum of 2 hours per session. 
Online or In-person Lessons:
 We will meet once a week (either online or in-person) for 2hrs of direct instruction. Assignments will still be emailed at the beginning of your week and you can expect to spend an additional 3-4 hours painting/drawing between sessions. 
 Private Lesson topics are as follows: Drawing, Painting, Photography, Soft Sculpture. 

Alexis prioritizes creating assignments tailored to the individual's needs and level of understanding as a means of helping students grow their skill set.
To apply send:

1.) Three examples of your best work are attached in .jpeg form. List size and medium in the body of your email. 2.) One brief paragraph about your goals/ what you wish to accomplish/ which private lesson topic you're interested in 3.) Your availability (times of the year) to begin the minimum of four consecutive weeks of lessons; how many lessons you are requesting; the best days of the week & times of day for the weekly 2-hour Zoom session.  Alexis is based in New York-please translate your times to Eastern Standard Time USA
Send the above application to

 a.rivierre.fineart@gmail.com

. Please do not send any additional information.
* In-person sessions will require a mask and social distancing. 
Complete applications will be answered within two weeks. If you should be offered a spot please be ready to accept within 48 hours via Pay Pal/ Venmo or Zelle. 
"I've had the pleasure to be Alexis Rivierre's student in three different art classes during my time in college. Alexis is an instructor who comes into class prepared and ready to start class with a positive and bright attitude. Incredibly friendly and relatable, she'll help you with any concept or idea you're not familiar with or any art frustrations you may have. She's an instructor who wants her students to succeed and think critically by pushing them to consider the expression, concepts, and meaning in their works. I've become more aware and appreciative of her teaching style and it has helped me become a smarter and better artist. If you're interested in painting or drawing courses, I highly recommend having her as your art instructor!"- 
Xuan H.
"Alexis Rivierre is a teacher's teacher because of her thoroughness and intuitiveness toward her students.  I created some of my best artwork in the Mixed-Media in Drawing class I took in my undergraduate studies at Wichita State University.  Each assignment was presented with background information, extensive word definitions, relative components, different approaches to the subject, and a list of artists to reference for each.  She gave individual attention to each student in almost every class period answering questions to bring out the best in that student. I was able to draw on my previous background and accomplishments in the art field giving me a comfortable foundation going forward.  She knows how to give constructive feedback and critiques that aid the student to improve and by the end of the class I felt more accomplished in my abilities and more comfortable experimenting with different mediums." - 

Kathy R.
"I first met Alexis in the fall of 2017 while she was teaching a Mixed Media drawing class I was taking. The first thing that struck me was Alexis's passion for art. The first class she drew the students in with her personality and overwhelming skills. One of my favorite parts of the class was the wonderful conversations about art and how we were using odd materials to create drawings. Overall it was a wonderful experience. Then in the spring of 2018, I saw Alexis was teaching a Painting in an Extended Field class. This was a great chance to build on the Mixed Media Drawing class. I really felt Alexis understood the goals for the class and she was willing to let the students take chances with their projects to create something that was outside of the box and truly in the Expanded Field. One major part of the classes that I took with Alexis was the critiques. Often critiques can drag on or lack engagement. But I really feel that the way Alexis managed the critiques added to the overall experience of the classes. She pushed the students to speak up and talk about their work and the work of other students in a way that built on our lessons. Alexis was wonderful and full of passion every day even while fighting to finish her final show for her master's degree." - Collin A. 
​​​​​​​